The motto of UDAAN is to set free the spirit of freedom inherent in every disabled child.
We are helping in a small way to special children by bringing solutions to their practical problems. Our motive is not only to make the special children socially adjustable by bringing balance in I.Q and E.I of the child. By following the holistic approach which results in the overall development of the child not only at mental level but at physical, emotional and spiritual levels too
Our Vision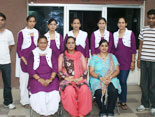 Parents of children with Nero developmental disabilities like C.P (Cerebral palsy) Autism down Syndrome etc. are often told that the brain lesions are irreversible, so DO NOT WASTE TIME on medical interventions, and just try to see what .O .T (Occupational Therapy) P.T (Physiotherapy) , speech, special education etc can do. read more
Admission open for
Autism
Cerebral palsy (C.P)
Slow learners.
Down Syndrome.
Mental Retarded.
Sister Concern Branch of UDAAN SPECIAL SCHOOL at ABOHAR
UDAAN SPECIAL SCHOOL
#7,New Suraj Nagari,Satya Sai Mandir , Abohar
Email : meenushahi1@yahoo.com
Mobile : 9888334053
Facilities at "UDAAN" special school for special children
Special education.
Occupational and physiotherapy.
Psychological testing and counseling.
Arts and crafts based therapy.
Speech and social communication therapy.

read more